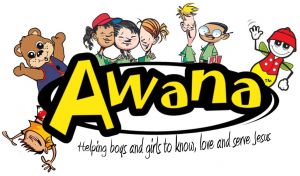 June 7 is the last night of Awana for the 2021-22 year.
Parents, please join us for this 1 hour special closing ceremony (6:00 pm to 7:00 pm) to celebrate your children's hard work as they've grown in their understanding of the Bible and all that Jesus has done to offer salvation for their souls!

It's never too late to get started in Awana!

Click here to register your child - please one registration form per child.


Awana is a world-wide nonprofit ministry focused on providing Bible-based evangelism and discipleship solutions for ages 2-18. As the global leader in child and youth discipleship, Awana gives children the opportunity to know, love and serve Jesus, no matter their background. Learn more about Awana.
Awana meets on Tuesday evenings @ 6 to 8 pm.

We have the following groups:
Sparks ~ K through 2nd grade
T&T ~ 3rd through 5th grade
Questions? Don't hesitate to contact us any time! We're always happy to help!
Bring your kiddos and join the fun!